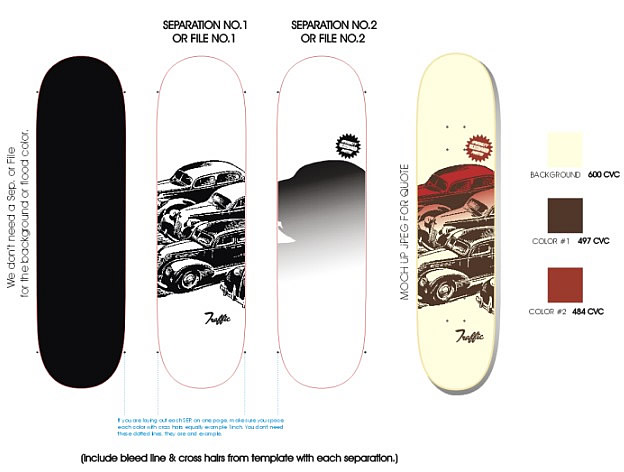 ​ART/PRINTING OVERVIEWProper printing requires proper artwork. With over twenty years experience in artwork and printing, we are your number one source for traditional screen printing. We take pride in our background and using it to provide customers with the tradition.
UNDERSTANDING OUR PRINTING
Our deck printing process involves, water based inks passing through mesh counts from 230-305 onto transfer film. The graphic is then applied to the board using heat. The process is called heat transfering. However we actually screen print these in house and are not the cheap inkjet, or offset printed transfers. Our transfers have layers of ink, put onto boards with paints and laquers to ensure proper sliding. Please refer to File Prepping for Four Color Process. Also call us for more details on process printing.
INKS/COLOR MANAGMENT
We can match most any Pantone™ Matching System "Solid Coated". We also have some Neon and Metallic inks in stock. All we need is the proper PMS numbers you specify.
Common misconceptions of color matching start with your Monitor. What you are seeing is RGB which is based off of light. However, you should most often work in CMKY mode even though you can only see in RGB. Everyones monitors are set differently and can't see exactly the same color as one another. Ex. Macintosh's color gamut is lighter than PC. Plus most people don't calibrate their monitors, or use color profiles. Printing processes do not involve RGB. So to keep everyone on the same page there is color control used by formula guides. The most professional way to go about matching your color is to get this PMS Solid Coated Formula Guide. Please do not mistake this with the Process Color Guide or Bridge Color Guide.